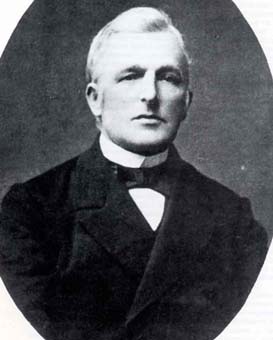 Theodorus van Gogh, dubbed Dorus, was born in Ultrecht in a family of twelve children. His father was appointed clergyman in Breda where he studied until the day he decided to follow in the wake of his father and become a minister. He studies in Ultrecht, passes his diploma in 1848 and looks for a job he will have difficulty in finding. Thanks to one of his father's friends, he gets in touch with the small Zundert community whose priest, old and sick, was looking for a successor. He will manage to be adopted by this village and will be appointed minister at 26 years old.. His first post is far from brilliant but Dorus likes life in small villages. During his life, contrary to his father, he will only be appointed in small parishes.
In Zundert, he will face the poverty of villagers, starved by economic crises, bad harvests and the potato disease. He will have more work in dealing with the management of farms, the church's properties or the association, than with religious matters. Always dressed up, the "smart minister" used to wear a big black hat with which you could see him from a distance. He was very helpful and respectuous, but hadn't inherited from his father's eloquence.
Two years after his arrival in Zundert, the year of his marriage- he was accused of embezzling money from the church, and had to fight several months to vindicate himself.
Dorus left Zundert, where he worked for fourteen years. He was the minister of other small villages: Helvoirt, Etten and Nuenen where he died from apoplexy at fifty-three years old.